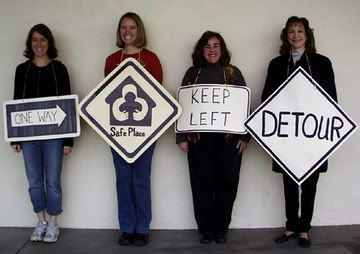 It would sound logical if they rename Bangalore as "One-Way City", i.e. because every other major road is being converted to One way rule. The sole reason being to de-congest the roads, so that there can be smooth flow of traffic. Recently Richmond and Residency Roads have been converted into One-way rule. The best part is my office is on Richmond Road and if i have to go back to Vellara Junction again, i need to do a round about trip, a 300mts distance is now streched to 900mts. This absoultely doesn't make any sense in burning more fuel for the sake of smooth flow of traffic, also the fuel prices are rocketing.
The worst woes of these One-way rules are effecting people who commute by public transport and pedestrains. The bus stops haven't been reloctaed properly and most of them are not sure whether buses will stop by. The next big woe for the pedestrains crossing Richmond Road, I had to cross the road yesterday for the first time after the One-way rule was implemented and it took me and my colleagues almost 10mins to cross the road. Even though there are zebra crossings, the vehicles move at their own speeds and they never slow for those of us waiting to cross. I happened to find myself in a similar situation when i had to cross Cunningham Road in the evening, it took me 10 mins.
Till yesterday it did not really matter, but i gave it a thought when i actually had to cross the roads. Now i understand how much time it takes to cross these roads which have been made to follow One ways.
I hope the Traffic cops address this problem with some thought and also the Transport Dept. should let the commuters know where are the Bus bays.