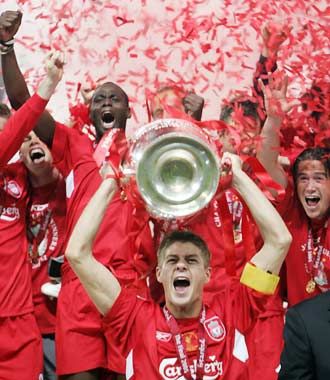 As they say anything can happen in football till the last second of the game, that is what happened in the Champions League final @ Istanbul when Red Devils Liverpool FC from England took on Italian giants AC Milan on 26 May'05.
I was supporting Liverpool and was eagerly waiting for action to kick start @ 00:30hrs India time. AC Milan drew the first blood when captain Paolo Maldini scored the first goal in the first minute. Then the Argentine striker Crespo scores 2 goals within a span of 5 minutes just before halftime to take 3-0 lead over Liverpool. I was very disappointed and thought that Liverpool would never strike 4 goals to win 2005 Champions league. By 1:20 am i hit the bed thinking about the performance of Liverpool in the finals.
In the morning, when i saw the news on TV i was really surprised to know that the Reds had won 2005 Champions League and this was their fifth Champions League Cup. So yesterday night i watched the complete match on highlights. It was the best ever come back by any team with 3-0 down during half-time, to win the Champions League cup. A lot of credit must go to the manager Rafael Benitez who has come up with some of the best plans when playing against the top Eurpoean clubs. It was a truly team effort from the goalie, defenders, midfielders and the strikers to get the best result.
Till the next League Cup's final, Liverpool FC would remain the Champions of Eurpoean Soccer.
For more picture by picture summary click
here