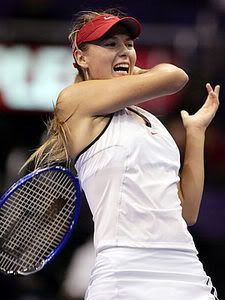 I know the news is old but i wanted to blog it anyway. Well i like the way she plays her tennis and also the way she looks. Ain't she beautiful guys??? She has defeated Serena Williams in the finals of WTA championship, Los Angeles, for the second time in span of less than five months. She won her first Grandslam by defeating Serena at Wimbledon and now she does it again.

Most of her critics were very skeptical about her capabilites and she winning another major chamionship in near future,after she had won her first Grandslam at Wimbledon. And they were being skeptical with her, as everyone knows is familiar with what happened to Anna kourinkova. She failed to win any major championship, as she was in news for all the Glamour other than Tennis. Sharapova has proved them wrong by defeating one of the best in Tennis for a second time. Well i saw this match till the end, Sharapova lost the first set. She won the second. The thrid set being the decider, were Sharpova was down by 4 games and then she came back to win the decider. There were lot of volleys during the match which kept the crowd entertained.

Thats the reason i am a big fan of her. Also she is beautiful.
Here is an interesting article on number of Russian teens ruling the world tennis circuit these days. I am sure u will be surprised by reading this article
From Russia with Love